Après deux petits patchs déjà en ligne, Star Wars : The Old Republic passe à la vitesse supérieure et accueillera le 17 janvier sa première grosse mise à jour 1.1. James Ohlen, lead designer sur le MMO de Bioware, nous a accordé quelques minutes pour parler du nouveau contenu. Il nous donne également son point de vue sur les premières semaines de commercialisation et glisse aussi quelques mots sur la version 1.2 attendue, elle, en mars.
 


jeuxvideo.com > Etes-vous satisfait des premières semaines de vie du jeu ? Est-ce que le nombre de joueurs présents sur le titre vous convient ?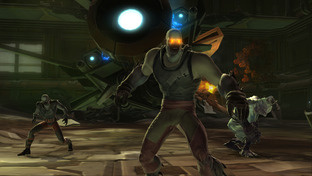 James Ohlen :

Le jeu marche très bien depuis sa sortie et dépasse même nos attentes en termes de nombre de joueurs. Nous sommes ravis d'avoir réussi à maintenir tous nos serveurs opérationnels, et ainsi éviter tout problème majeur. La communauté grandit très vite et quotidiennement nous accueillons de nombreux nouveaux joueurs dans l'univers du soft. Le taux d'attachement au titre est très fort, ce que nous pouvons facilement voir puisqu'après environ un mois de commercialisation, les abonnements ne cessent de se multiplier. Donc l'avenir semble extrêmement positif. Ce qui est bien car nous avons dépensé beaucoup d'argent pour développer ce jeu !
 
Nous sommes restés en alerte durant ces deux dernières semaines pour tout surveiller de près. Et malheureusement, pas mal de membres de l'équipe ont dû travailler à Noël pour pouvoir réagir au moindre problème rencontré par les joueurs, comme un bug qui aurait terni leur expérience de jeu. Mais tout va pour le mieux. Nous avons déjà sorti deux patchs, les v1.01 et 1.02 qui règlent plusieurs bugs et notre plan est de continuer à sortir un patch par semaine pour encore arranger tout cela. Parfois, les patchs incluront aussi quelques modifications mineures sur le jeu ou même quelques petits changements de fonctionnalités déjà en place. L'hôtel des ventes est par exemple quelque chose que nous tenons à compléter. L'amélioration arrivera d'ailleurs juste après le patch 1.1.
 


jeuxvideo.com > Ce patch est prévu pour le 17 janvier, c'est bien ça ?


 


James Ohlen :

Oui, le patch 1.1 sera en ligne le 17 janvier. La prochaine mise à jour majeure arrivera quant à elle en mars.
 


jeuxvideo.com > Quel est l'élément du patch 1.1 dont vous êtes le plus fier ?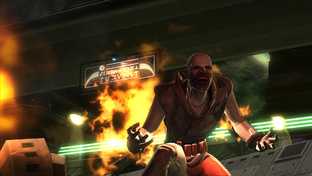 James Ohlen :

Disons que nous avons eu beaucoup de succès durant ce premier mois de commercialisation. Mais la grande question chez les fans de Bioware est de savoir si le studio parviendra à soutenir de nouveaux projets sur les prochains systèmes de jeu, tout en soutenant les titres déjà en place. Les fans sont inquiets car ils savent que le développement de Star Wars : The Old Republic a coûté cher et ils se demandent si Bioware parviendra à tenir le coup. Du coup, l'une des principales fonctions de la mise à jour 1.1 est de montrer à tout le monde que oui, nous sommes très sérieux en ce qui concerne le soutien du jeu. Voici du contenu supplémentaire, sachez que nous continuerons à en fournir régulièrement. La bonne nouvelle est que nous avons pu garder l'équipe qui a créé le jeu. L'équipe de The Old Republic travaille toujours sur le jeu pour créer de nouvelles mises à jour. Le planning s'étale déjà sur toute l'année 2012, et même en 2013. Notre stratégie est de fournir une mise à jour en janvier, puis de recommencer avec une autre encore plus importante en mars. Et après ça, nous continuerons avec de grosses mises à jour à intervalles réguliers.
 
Pour revenir à la question, notre but avec la mise à jour 1.1 était d'augmenter le contenu pour les joueurs de niveau 50. Nous avons ainsi une nouvelle zone litigieuse qui est très scénarisée. A ce sujet, nous avons des zones litigieuses avec plus ou moins de scénario. Celle-ci a une histoire très marquée, à tel point qu'elle est même scindée en deux parties. La première sera dans la mise à jour 1.1 et la seconde dans la mise à jour 1.2.
 
En plus de la zone litigieuse, nous trouvons aussi le Palais de Karagga qui était déjà notre seconde opération. Inspirée par le début du Retour du Jedi puisqu'elle implique des Hutts et des monstres Rancors, cette opération est désormais étendue. Nous avons ajouté de nouveaux boss à battre, de nouvelles cinématiques pour rendre cette opération encore plus grande et complète.
 
Avec 1.1 nous modifions aussi quelques petits détails dans le système de jeu et apportons surtout l'anti aliasing, une amélioration graphique qui nous manquait terriblement et que nous avons choisi d'ajouter ce coup-ci. Voilà un bon résumé de tout ce que nous proposerons dans la mise à jour.
 


jeuxvideo.com > Pour revenir à la zone litigieuse dont vous parliez, pouvez-vous nous donner un avant-goût des boss que nous rencontrerons et les pouvoirs qu'ils utiliseront ?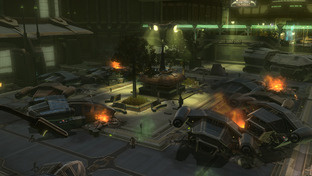 James Ohlen :

Je ne peux pas vraiment dévoiler cet élément. Les joueurs devront les affronter pour les découvrir. Ce que je peux dire par contre, concerne les ajouts faits dans le Palais de Karagga. Je peux vous dire que vous aurez à vous battre contre un Hutt. Je sais que cela peut paraître ridicule dit comme ça puisqu'on imagine un Jedi arriver devant Jabba le Hutt est le découper avec son sabre laser. Mais le combat contre le Hutt dont je parle est plus difficile que cela suite à un petit élément que nous avons ajouté pour pimenter la chose. Je pense que les joueurs seront assez excités lorsqu'ils pourront enfin se battre contre le Hutt. Il s'agit d'un combat plutôt unique en son genre pour un titre Star Wars.
 


jeuxvideo.com > Une autre des grandes nouveautés de ce patch concerne le PvP avec un bracket spécialement dédié aux personnages de niveau 50.


 


James Ohlen :

Voilà typiquement le genre de chose qui aurait pu arriver dans l'une de nos mises à jour hebdomadaire. Il s'agit simplement de petites modifications pour rendre le jeu meilleur. Aujourd'hui, le souci pour les joueurs de niveau 50, parce qu'ils ont tout cet équipement, est le déséquilibre qu'ils rencontrent dans les Zones de Guerre en dépit du système déjà en place pour tenter de réunir les joueurs de niveau similaire. Le nouveau bracket fera en sorte que les niveaux 50 seront plus enclins à affronter un autre niveau 50, mais pas systématiquement non plus. Nous ne voulons pas qu'un joueur de niveau 50 attende inféfiniment qu'un de leur contact atteigne le niveau 50 pour se rejoindre en Zones de Guerre. Tout le système de matchmaking est paramétré de sorte qu'il vous dirige vers un certain type de joueurs. Mais si cela prend trop de temps, vous avez aussi la liberté de donner vos propres préférences pour entrer en Zone de Guerre dans un temps raisonnable.
 


jeuxvideo.com > Pensez-vous du coup créer d'autres brackets pour des joueurs d'autres niveaux ?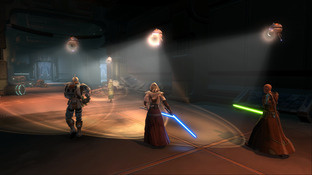 James Ohlen :

Nous avons de nombreux plans concernant le PvP. Notre but est de nous assurer que les fans continueront de soutenir le jeu, et pour cela nous avons créé plusieurs équipes dédiées. Nous avons une équipe dédiée au PvP, une équipe aux guildes, une équipe à l'interface, et même d'autres équipes dont je ne peux pas encore parler aujourd'hui. Tout cela pour dire que l'équipe en charge du PvP va continuer à améliorer cet aspect du jeu au fil de l'année. Par exemple, en mars, cette équipe mettra en place un classement pour les combats PvP. L'une des caractéristiques communes des joueurs PvP, c'est leur esprit de compétition. Ils veulent se mesurer à d'autres joueurs et ils pourront alors disputer des combats classés, obtenir un rang dans Star Wars : The Old Republic pour se comparer aux autres joueurs du serveur. Après cela, l'équipe PvP continuera son travail sur d'autres éléments pour booster l'expérience de combats entre joueurs. Ultimement, nous visons des rencontres entre serveurs ! Nous aimerions aussi des brackets qui mélangent un peu tout pour ne pas limiter les joueurs de même niveau à se battre entre eux. Il y a vraiment beaucoup d'idées dans les tuyaux niveau PvP !
 


jeuxvideo.com > Y a-t-il une classe de personnage que vous trouvez trop forte ou trop faible et que vous souhaitez corriger dans un futur proche ?


 


James Ohlen :

Nous surveillons toujours l'équilibre de très près. Actuellement, nous sommes attentifs au Chevalier Jedi et au Guerrier Sith. Il y aura de petites modifications sur ces classes qui passeront certainement inaperçues pour beaucoup de joueurs. Nous étudions constamment les statistiques que nous avons sur l'ensemble du jeu, notamment des combats en Zones de Guerre. Notre mission est de nous assurer qu'il règne bien un équilibre entre les classes et qu'aucun joueur ne sente une injustice à quelque niveau que ce soit.
 


jeuxvideo.com > Beaucoup de joueurs réclament la double spécialisation des talents ? Est-ce quelque chose que l'on pourra bientôt voir dans le jeu ?


 


James Ohlen :

C'est bien un élément auquel nous réfléchissons mais qui n'arrivera ni dans la mise à jour 1.1, ni dans la mise à jour 1.2.
 


jeuxvideo.com > Vous avez récemment divulgué quelques chiffres concernant le jeu et notamment la proportion de joueurs ayant choisi le côté clair ou obscur de la Force. Il est assez surprenant de voir que l'équilibre est plutôt respecté entre les deux camps. Cela vous surprend-il ?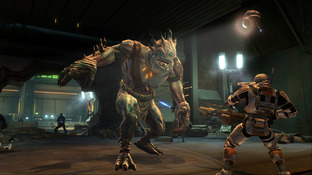 James Ohlen :

En fait, cela dépend du serveur sur lequel vous jouez. Certains serveurs sont très équilibrés, d'autres ne le sont pas du tout et penchent fortement d'un côté ou de l'autre. Notre équipe surveille aussi cela de très près et nous essayons d'encourager les joueurs à rejoindre tel serveur plutôt qu'un autre afin de tenter de garder un certain équilibre. Il y a par exemple un système qui propose de jouer une classe du camp minoritaire pour tenter de remettre un peu de parité sur le serveur. D'un point de vue global, tous serveurs confondus, c'est assez équilibré avec un léger avantage du côté de l'Empire. Il semble que les fans de Star Wars penchent un peu du côté obscur de la Force. Ce qui nous surprend un peu puisque nous pensions que la communauté tendrait plutôt vers le côté clair de la Force. C'était le cas dans nos précédents jeux. Lorsque le choix est donné de jouer un personnage bon ou mauvais, la plupart des joueurs préfèrent jouer les gentils. Le fait est qu'ici, vous pouvez jouer du côté de l'Empire tout en étant gentil. Sans compter que faire partie de l'Empire est aussi plus "cool" que rejoindre la République.
 


jeuxvideo.com > L'une des grandes forces de WoW est la grande flexibilité dont fait preuve son interface et la présence de nombreux mods : certains pour mieux tanker, d'autres pour les healers, d'autres encore pour l'hôtel des ventes... Quelle est votre position à ce sujet ? Allez-vous permettre à des tiers de proposer des mods pour que les gens puissent personnaliser l'interface de Star Wars ?


 


James Ohlen :

C'est justement le travail de l'une de nos équipes. Nous recevons beaucoup de retours de notre base de fans sur la possibilité de personnaliser l'interface. Du coup, nous avons une équipe entièrement dédiée à la mise en place d'options de personnalisation de l'interface pour que celle-ci puisse s'adapter aux préférences de chacun. Le but final est bien de permettre à tous de modifier l'interface.
 


jeuxvideo.com > Nous avons vu de plus en plus de MMO se tourner vers un modèle économique free-to-play. Evidemment, nous sommes bien conscients que cela n'est pas à l'ordre du jour pour The Old Republic. Cela dit, est-ce qu'il est concevable de trouver une section du jeu ouverte à tous et dénuée d'abonnements ?


 


James Ohlen :

Ce n'est pas quelque chose dont nous parlons pour l'instant et c'est difficile de dire ce qu'il se passera dans le futur. Aujourd'hui, nous nous concentrons sur le jeu que nous avons.
 


jeuxvideo.com > Il y a quelques semaines, Bioware évoquait aussi une version Mac du jeu. Où en est le projet ?


 


James Ohlen :

Je ne peux pas donner de mise à jour officielle à ce sujet, mais je peux confirmer que c'est bien une chose dont nous avons parlé.
 
 


L'instance du Siège de Kaon en vidéo